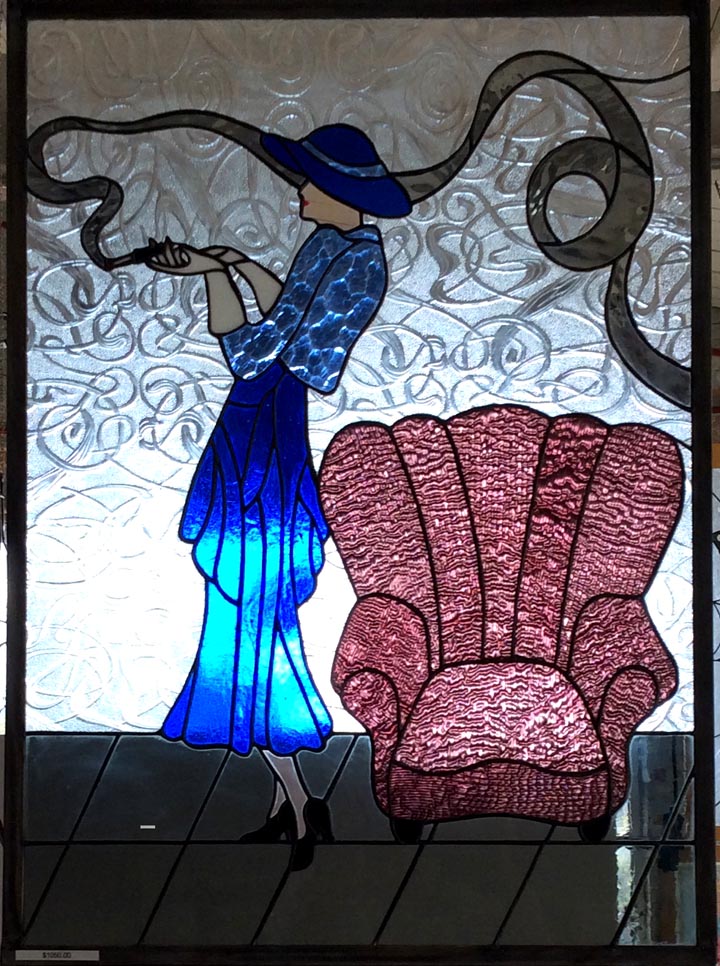 This stained glass window is 25 inches wide and 35 inches tall. The ladies blue dress is a combinations of Wissmach med. blue double rolled glass and Wissmach light blue Figure C. The Floor is made of GNA grey antique which is no longer produced. The chair has a highly texture effect using Kokomo Purple Brown Mississippi glass. The clear textured background glass is called .Everglade by Pilkington. The window is frames in 3/4 inch zinc and it had hooks incorporated into the frame for hanging.
All of Carolyn's work is signed and dated by etching into the glass in the lower right corner. She has worked with designing and constructing unique works of stained glass art for over 40 years. This panel was inspired love of the style and designs of the Art Deco Peroid.
This stained glass window is available for purchase for $1050.00. If shipping is required great care is taken in packing. Each crate is custom made with wood and internal packing to ensure a safe transport. Visions Stained Glass is located at 400 E Main Street, Suite #200. Call 423-255-3341 or go to https://www.visionsgallery.com
Carolyn welcomes custom orders too. She will design something "one of a kind" for you, or remake an existing design from her web site to your shape/dimensions/colors.
When ordering through the web site (www.visionsgallery.com) go to the order page to pay with paypal for a secure transaction.