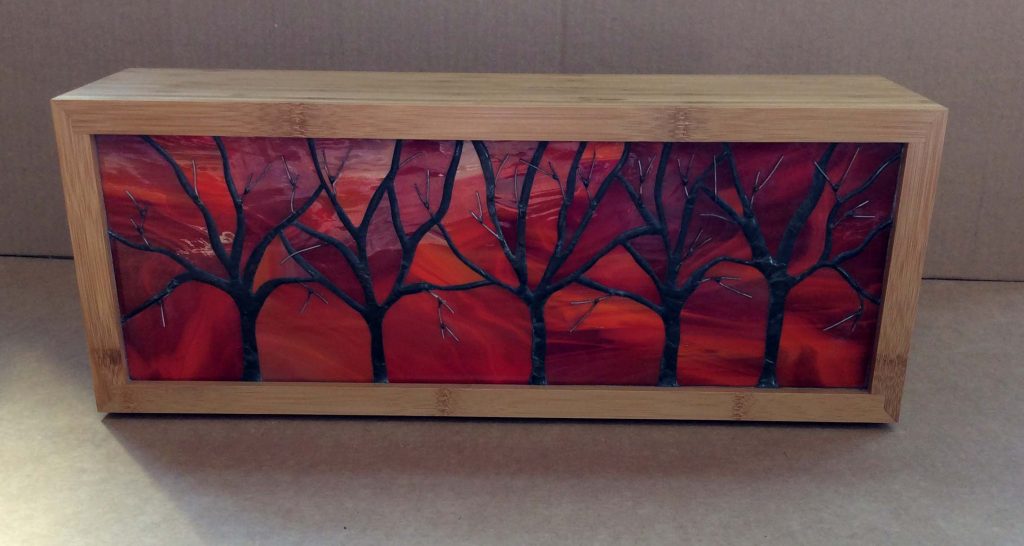 Tree box construction:
This box is hand made tree box is done in Bamboo by wood artist Jim Roche of Chattanooga Tn. It is lined with led lighting. The glass insert is made with spectrum red/orange streaky which turns true red when the light is on. It is made to plug into a normal outlet with a switch on the back to easily turn it on and off.  The trees are made by puddling lead between the glass background.This is a technique rarely used as it is difficult to achieve. The dimensions are 19.5 inches x 8 inches x 5 inches.
About the Artist:
All of Carolyn's work is signed and dated by etching into the glass in the lower right corner. She has worked with designing and constructing unique works of stained glass art for over 40 years. This piece is titled "red forest" after the science fiction movie "Twelve monkeys".
Purchase and shipping information:
It is available for purchase for $400. If shipping is required great care is taken in packing. Over the years she has shipped to over 30 states in the U.S. and a number of countries.  Each crate is custom made with wood and internal packing to ensure a safe transport. Visions Stained Glass is located at 400 E Main Street, Suite #200. Call 423-255-3341 or go to https://www.visionsgallery.com
Carolyn welcomes custom orders too. She will design something "one of a kind" for you, or remake an existing design from her web site to your shape/dimensions/colors.