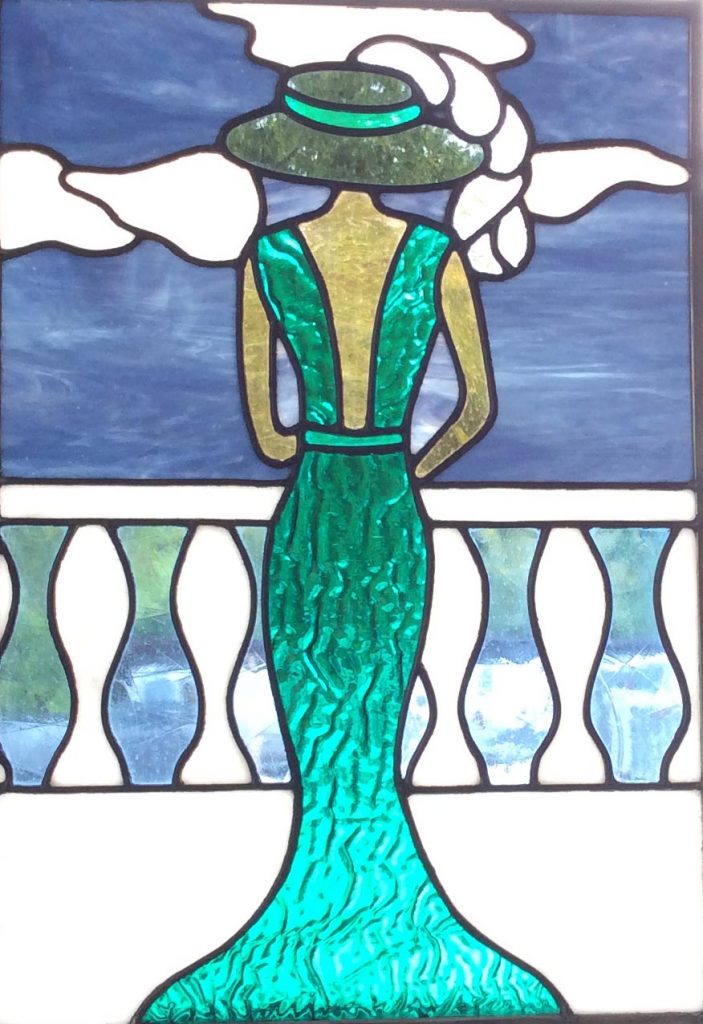 About the Artist:
For over fourty years, Carolyn Insler has created many stained glass designs. Her work has been purchased and shipped all over the United States and as well as over seas.She was a long time member of "In Town Gallery" in Chattanooga Tennessee and had a solo show featuring window such as this with a elegant women as the theme. The show was titled "Glassy Ladies". Her new location on 400 East main street in Chattanooga has many of these designs available for purchase. Custom orders are welcome. She will remake one of her designs to fit you space, or take your idea and develop it in to a one of a kind creation. Carolyn also sells a full line of stained glass supplies with a wide variety of glass. She is also sought after as a master of stained glass restoration from church windows to residential pieces.
Description of Cruise Lady:
This exquisite stained glass lady window is 16″ x 23″.  The glass used for her dress is a highly texture teal Kokomo, and the skin tone is Spectrum brown water glass. The feathers in her hat are made with grey glue chip glass. The window is made with the copper foil construction method. The frame is made with 1/2″ zinc framing which has hooks incorporated in it. This would be the perfect gift for that special person on your list who would like to add elegance to their home.
The price of this panel is $500 with free shipping until the end of December, 2016 for the contiguous U.S. >
Shipping Stained Glass:
It is important to take extreme care in shipping stained glass. Custom wood crates are made for large works and  double boxing for smaller pieces. If you do not need shipping, stop in the shop Tuesday through Saturday from 9:30 AM – 5;30 PM. The studio/shop is located on the second floor of 400 E Main Street, Chattanooga Tennessee 37408