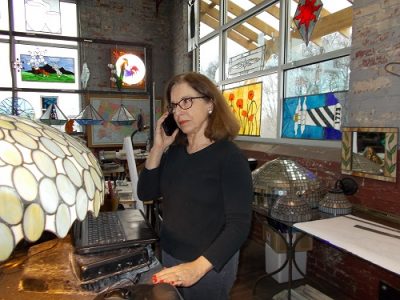 The steps below tell you how to order custom stained glass artwork.
I gladly accept custom orders. Many of the pictures on this website are of custom orders that started with a customer with an idea.
If you have an idea you want to see in stained glass, please contact me by email with your request or stop by Visions Gallery if you are in the area.
With experience in stained glass design and creation, I am more than happy to work with you to create the artwork of your dreams in stained glass.
The process of creating your custom stained glass design is a matter or a few simple steps to get started.
What You Need Before Placing a Custom Order
Before contacting me, you will need to have a general idea in mind.
Please be prepared to tell me:
dimensions of the finished piece,
theme of the desired piece,
where and how the piece will be used.
preferred colors.
If you have a picture of a scene or setting that you wish to see in the completed stained glass artwork, please email it to me so I can "see" what you are desiring.
If you do not have a picture, please describe the scene as best you can. Take a little time, if you will, to look over the finished works displayed on my website. Consider how you might describe a finished work. Often a general theme can help get your idea across, such as a lighthouse or an old barn, a black cat or a fat cow.
It is very important to know where the piece will be used and how. Some pieces require tempered stained glass if the use will be in an exterior door or panel beside a front door.
At this point I can give you a very rough estimate of cost based on size and design.
Time to Get to Work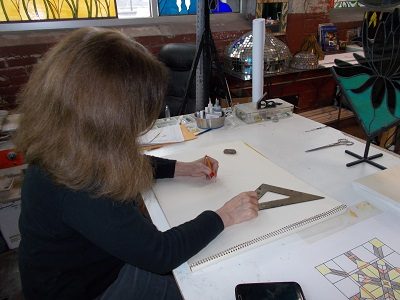 1.  I will respond with a thumbnail sketch of your idea on paper. (Note, the sketch will not be actual size, but a smaller rendition.) The sketch will be done in pencil on paper, no colors.
2.  Please comment on the sketch with ideas or tweaks. You will probably hear me say, "Am I going in the right direction?" or "Is this what you were thinking?"
3.  I will tweak the original sketch from there. This process to get your idea confirmed usually takes only two or three revisions.
Selecting Colors and Glass
Once the line drawing has been decided upon we will talk about colors and glass types.
Deciding on glass type is extremely important because of the placement of the finished piece.
Will you use it to obscure a view ?
Or, will the art complement an existing room decor?
Will the finished art be used in an exterior door or exterior setting? I use tempered glass to add durability and strength when the artwork is used as an exterior door panel or sidelight.
If you have a color palette that sets the theme for the room, please provide it.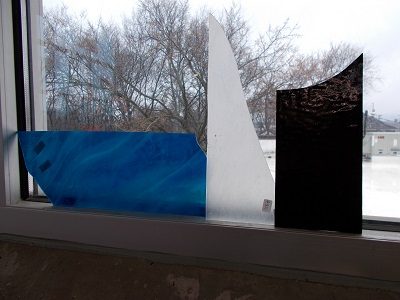 I will send images of glass samples and if necessary, small samples of suggested glass.
Before selecting the glass, I place pieces in a window to see if the colors will show as desired in the daylight.
Texture is important.
Also, it is quite important to determine if you wish the piece to be transparent or opaque. That decision will primarily depend on final placement and use.
With Decisions Made, Back to Work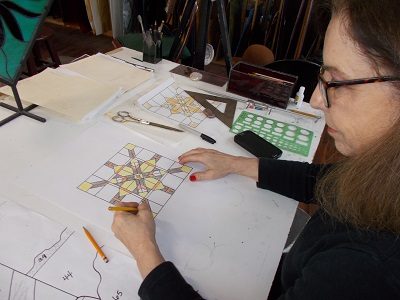 I will color in the tweaked thumbnail sketch with the appropriate colors for your approval.
The small sketch in your selected colors will provide you will a more complete idea of how your finished custom stained glass artwork will appear.
Will all the preliminaries and decisions out of the way, it is time for final approval before the actual stained glass construction begins.
Pricing and Payments
At this point I can provide a firmer estimate of price of the finished product, plus or minus 10%.
The variation in final price will be based on time and materials involved in creating the finished art work. Each piece is different. No two pieces are alike and all are from your ideas translated into my art work.
I require a 25% deposit based on the estimated final price.