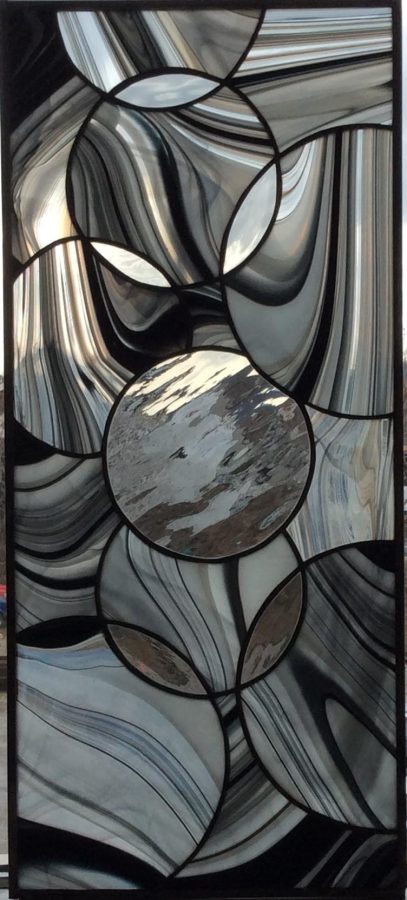 Add a pop of design to your kitchen with a stained glass kitchen cabinet panel. When it is time to update your kitchen, why not consider removing the center panels of the upper cabinets and replacing the panels with a custom created stained glass kitchen cabinet panel? Whether you choose to do one, two, several, or all of your cabinet panels, I can create the perfect fit for your kitchen. Draft a design and color scheme that complements your kitchen and email the information to me. I can create a custom panel that is all about your style and your kitchen.
Example of Stained Glass Kitchen Cabinet Panel:
The panel shown above:
10.5″ x 24″
Made with Spectrum Baroque black/white/clear glass and Spectrum grey water glass
Inserts into the cabinet frame.
While the panel shown is an abstract design for a modern kitchen, I will work to help you design and select colors that will make your kitchen unique. All I need to begin work on your kitchen update is the panel dimensions, your color scheme, your style and your ideas. If you need help in deciding what will complement your kitchen, email pictures of your kitchen as it is. I will put your style, color scheme and theme into a creation for your approval.
Look forward to hearing from you. —- Carolyn