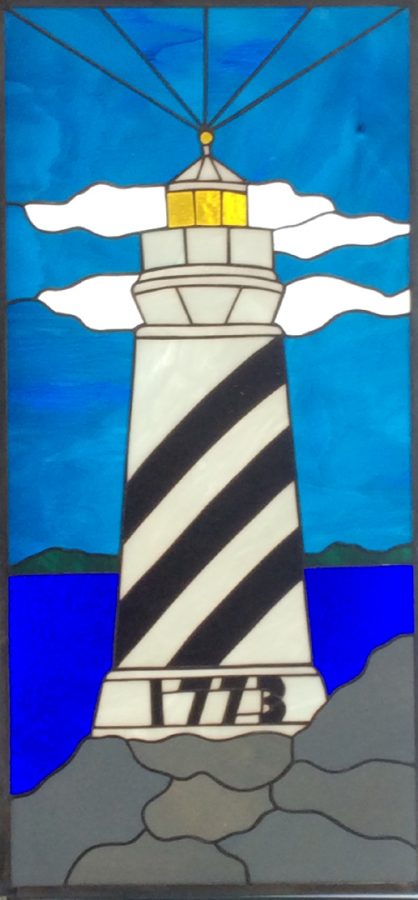 I recently created this custom order stained glass light house for a customer in Michigan. The number shown along the base of the light house, 1773, is the customer's street address.
The customer had an idea of what he wanted and he gave me an approximate size for the finished piece. The client presented his idea of a light house and the setting of a somewhat rocky shore line. From his idea and specifications, I drew a sketch to represent his idea and how it would appear in glass. With his approval of the sketch, I set out to create a pattern based on the sketch. With the pattern approved, I then created the custom piece.
Creating the Custom Order Stained Glass Light House
When creating any piece of stained glass it is important to understand what can be accomplished to best represent the customer's idea. The dark grey rock features are comprised of pieces of grey glass that vary slightly in color. I used the different shades of the grey colors to develop shape and depth. I used lead came to outline each of the rocks. By varying the shades more depth and shape can be achieved.
I used a brighter shade solid blue for the water. The sky is created from stained glass that offers a shading pattern to express the idea of clouds and depth.
To create the upper sky I began with straight cuts of glass put together with the lead came. This gives the illusion of a working light house, streaming light in all directions. I used a sunlight yellow shade of glass to create the illusion of light in the windows at the top of the light house.
I created the original design made more personal to the customer by using his street number as the address along the base of the light house.