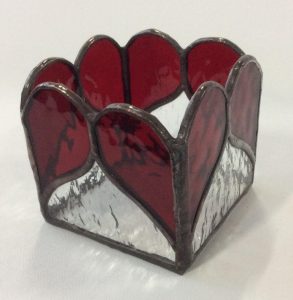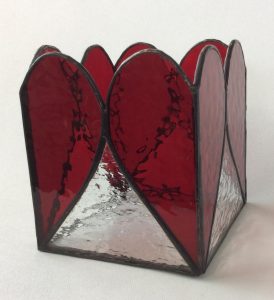 Select:
Large candle holder, size 4.5″ x 5″, only $96; OR,
Small candle holder, 2.5″ x 2.5″, only $56
To see more candle holders and/or to purchase, CLICK HERE.
Valentine Candle Holders in Two Sizes
I created these red heart Valentine candle holders as special gifts for Valentine's Day. My goal is to create something special that will last. This year I created an affordable gift that can be used year round. Add these Valentine candle holders to the dining table for a romantic dinner. Draw a hot bubble bath and surround the tub with candles in these Valentine candle holders. Or, add a warm glow to the bedroom.
Don't fall into the same old gift box. Purchase your special Valentine a gift that will last year after year, reminding him or her of you time and time again. Anyone can purchase a box of chocolates or a bouquet of flowers, both good gifts, but show him or her that you put some thought into the gift this year by selecting my specially designed and crafted Valentine candle holders. There is nothing that shows love more than a gift made by hand and carefully selected.
They come with a white glass candle votive. The red glass is English Muffle Selenium Red. The background glass is a texture clear that added sparkle to a flickering candle.
If you are looking for romance on the most romantic day of the year, select one, two, or several of these holders, add candles, and the rest is up to you.